Crema Espresso 1 kg
Price
Delivery estimated between Wednesday 1.2. and Friday 3.2.
Variations (4)
30 % Robusta, 70 % Arabica
Smooth and strong aftertaste
Roasted in Porvoo, Finland
Whole coffee beans or choose grinding
#16
Sales rank
In Coffee Beans
Energizing - makes your heart skip a bean!
A Finnish espresso? That's crazy! Or is it? We're convinced even the Italians are jealous of our espresso filled with flavour. It's both smooth and strong with a pleasant aftertaste. This coffee will give you a rich crema in the cup and leave you with a smile on your face.
Crema Espresso is a dark roasted espresso bursting with flavour. The coffee is a blend of Brazilian Arabica and Indian Robusta, and you can find notes of dark chocolate and nuts in the coffee. It's excellent as espresso and mighty good in milk coffees.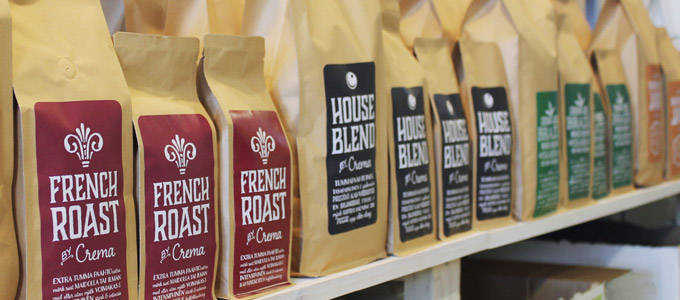 Crema's Own Coffees
Our own coffees are high-quality alternatives for those who value a good cup of coffee. For more than a decade we have listened to our customers' wishes and thoughts about how good coffee should taste.
Based on our experience with our customers, we have developed our own tasty coffee selection.
Crema's coffee is roasted by hand in Porvoo, always in small batches to ensure the best quality.
Taste profile
An intense espresso with notes of dark chocolate and caramelized sweetness. Round and large taste. A taste profile that fits well with milk. Long aftertaste of dark chocolate.
Arabica / Robusta
Body
Sweetness
Acidity
Bitterness
Brand Crema
Product number

1646
70 % Brasilia Santos / 30 % Intia Robusta
espresso roast
beans or ground
1 kg
Similar coffees
---
Our customers also bought
Customer reviews
I'm no expresso espert, but this is good!
M.S.
I can actually really brew some probably okay espressos with this and my new Nanopresso!
These beans are quite nice, very proper dark roast with that monkey kind of flavour that espresso usually has. It's a really special experience!
Strong and dark
GMartinez
I liked this coffee, the grind is very small and even. The flavour is strong and dark.
Crema Espresso 500 g
E.H.
Tasapainoinen.
Ihan kelvollinen!
J.R.
Tämä on jo toinen kerta, kun tilaan maisteltavaksi. Ensimmäinen kokeilu oli myönteinen, samoin tämä toinen. Vahva pyöreähkö maku.
Crema Espresso 500 g
P.R.
Ostin vahingossa kahvipapuja, mutta ystävä osti ne, joten tulivat tarpeeseen.
Ok kahvi
S.R.
Ihan ok, ei kuitenkaan mitenkään huippuhyvää.
Maukas
MP
On makua ja kofeiiniakin riittävästi. Sopii myös maidon kanssa.
Pysyvä vakio
AnPe
Hyvä kahvi, josta on vaikea luopua. Tätä pitää olla aina saatavilla. Alle 3Kg ei edes kannata tilata 😀
Taattua talon laatua
LaPavoni72
Espressona toimii hyvin, sopiva crema ja maku pehmeä tuplanakin.
Todella hyvä yleisespresso
PS
Tää sopii sekä maitokahveihin että ihan espressona juotavaksi. Sopivan pehmeä ja maukas.
Muhkea
korde
Voimakas maku, ei lainkaan kitkerä.
Maistuvaa!
Jenni
Lahjaksi meni ja maistui lahjansaajalle!
Suomalaiseen makuun
Janinho
Tämä on suomalaiseen suuhun sopiva maku. Käytän täysiautomaattisessa kahvikoneessa! Sopii hyvin erikoiskahvien valmistamiseen. Monipuolinen ja moneen taipuisa peruspapu.
Crema Espresso 250 g
En ole saanut tuotetta. Lähetys näkyy olevan matkalla???Olen ottanut asiakaspalveluun yhteyttä, mutta asia edelleen (!) selvityksessä.
Ihan hyvä uusi tuttavuus
Jussi
Voimakkaan pehmeä ilman happamuutta, mitä joskus esiintyy vahvoissa espressoissa. Muistuttaa kovin vanhaa tuttavaani Caffè Paskàa
Safe choice
AL
I have bought it many times. It tastes good as americano and espresso.
Täydellinen espresso
Liisa
Aromikas, vahva mutta samalla lempeä. Espresson pystyy juomaan helposti myös ilman sokeria ja maitoa, koska maku on niin erinomainen. Suurherkkua jonkun makean kahvileivän kanssa.
Juuri sopiva peruspapu
JH
Hyvässä mielessä yllätyksetön espresso. Oli juuri sellaista, mitä osasi odottaa ja tekee, mitä lupaa. Toimii espressona ja varsinkin maitojuomissa. Tämän voisi ottaa jokapäiväiseen käyttöön. Tulee varmasti tilattua toistekin.
Aika perus
JFK
Ei mikään ihmeellinen makumaailma, tumma paahto tekee mausta aika yllätyksettömän.
Maukas kahvi
Mikael
Hyvin maistuu maidon kanssa, sekä ilman.
Parasta kahvia ever
AL
Jos mulla olisi kahvila, tarjoaisin vain tätä kahvia.
Crema Espresso 250 g
Kahvi on todella hyvää
Takuuvarma valinta
Mirka
Todella hyvä espressopapu, ei kitkerä mutta vahva.
Sopii tarkoitukseen
Kati
Erinomainen espressokahvi.
Päiväkahvi, illalliskahvi
Kahvia työpäivään
Uusin luottokahvi. Kerroksellinen. Hyvä crema. jonka alta paljastuu vahva maku.
Espresso jauheena
JV
Olisi pitänyt tilata papuina. Jauhot jäänevät juomatta.
Crema Espresso 250 g
Jenspa
Ihanan tumma aromi ja pehmeä makuelämys.
Crema Espresso 1 kg
Edelleen erittäin varma valinta. Onnistuu käytännössä aina ja maku pysyy tasalaatuisena
ensipuraisu tähän kahviin ja hyväähän se on
wannabebarista
ensin oli hakemista millä määrällä ja jauhatus karheus asteella tätä kahvia olisi paras tehdä mutta kun sen löysi vihdoin nii ai että tullee hyvää lattea, vahvaa mutta silti pehmeän makuista. tilaan myös jatkossa
Crema Espresso 250 g
Miltsu76
Yksi kesto suosikkini
Erinomainen arkiespresso
EK
Henkilökohtainen lemppari espressopapu mitä menee monta kuppia päivässä, mukavan tasapainoinen maku ja koska creman oma tuote niin aina erittäin tuoreena saa pavut!
Ainoa kahvi minkä tarvitset
Mokkamanne
Kaikkea on tullut kokeiltua mutta tähän olen päätynyt. Ei se vaihtamalla parane. Sopii maidon kanssa ja ilman.
Crema Espresso
JS
Todella laihaa ja mautonta.
Puoli pussia jauhettu ja.. onko todella pakko juoda loputkin, ei..menee loput roskiin.
Crema Espresso 250 g
RCP
HYVÄ MAKUINEN Espresso.
Lähes täydellinen
Anza
Omaan makuun liki täydellinen espresso. Miksei täydellinen? En osaa sanoa mitä voisi parantaa, mutta jätetään sellaisellekin mahdollisuudelle vielä varaa...
Erinomainen espresso
Mackonte
Todella miellyttävä espresso mutteripannussa keitettynä kauramaidon kera! Oma suosikkini useista kahveista.
Pehmeä ja erinomainen kahvi
Ana
Kahvi maistuu oikein hyvältä ja pehmeältä.
Eka kerta
Suvis
Helppo tilaus, tosi nopea toimitus tuli lähikaupan lokeroon
Hyvä perusespresso
Peksi
Oikein hyvä perusespresso joka toimii varsinkin maitojuomissa. Mukavan suklainen eikä liian hapokas. Pidän tummasta paahdosta sekä perinteisistä Italialaisista espressoista ja tämä toimii minulle!
Positiivinen yllätys
Tom
Juon espresso mustana. Tämä toimii. Paahtopäivä oli vain muutama päivä aikaisemmin ja toimitus nopea
Crema Espresso 500 g
Tommi
Loistava papu maitokahveihin.
Suosittelen
Don
Vahva, intensiivinen ja tummia suklaan ja kaakaon vivahteita. Mainio espresso esimerkiksi raskaan lounaan tai myöhaisen aamupalan jälkeen. Ruokosokeri tukee ja parantaa makuja ja jos nikotiini on paheesi suosittelen Oliva serie V melanio mustan surman seuraksi.
Lempikahvini
Coffee lover
Tämä on lempi kahvini: Lempeä, puhdas ja hyvät kahvin aromit, nam! Tämän kahvin löytämisen jälkeen on vaikeaa juoda vain yksi kuppi päivässä... Positiivinen ongelma siis!
Kahvipavut
Pipsapippuri
Hyvää laatua.
Espresso
Kari
Erinomainen kahvi minun makuuni. Paljon on eri kahveja kokeiltu ja aina palaan tähän takaisin. Se vaan on niin hyvää!
Lempikahvini
Tuija
Olen ostanut tätä jo monesti. Mainiota mutteripannulla valmistettuna ja maidon kanssa.
Erinomainen espresso
Kati
Erittäin mainio espressokahvi, Bialetti-keittimellä mainiota herkkua.
Espresso
Jari
Tämä vaan aina toimii ! Erittäin hyvä ja varma kahvi
Hyvä, vahva perusespresso
Emppu
Hyvää on.
Crema Espresso 1 kg
Jari
Hyvä peruskahvi joka onnistuu lähes joka kerta. Toimii hyvin sellaisenaan ilman maitoa ????
Crema Espresso 1 kg
Creman kahvipavut on aina tuoreita ja plussaa siitä, että pavuissa lukee myös paahtopäivä.
Crema Espresso 500 g
Kotibarista
Todella hyvää ja vasta paahdettua kahvia, arvostan todella paljon!
Crema Espresso 250 g
Kotibarista
Todella hyvää ja vasta paahdettua kahvia, arvostan todella paljon!
Crema Espresso 250 g
Pehmeä ja täyteläinen. Todella hyvä.
Lemppari
Ainokainen
Me nyt vaan olemme ihastuneet tähän kahviin näin talviaikaan !
Herättää varmasti vahvalla aromillaan.
Erinomaista
MIS
Loistavaa palvelua kun cremalta vahvistettiin että haluanko oikeasti sitä mitä tilasin vai sitä laatuo joka sopii samalla ostamaani pannuun
Hyvää ja vahvaa
pirp
Keitettiin ihan perus-Mocca Masterilla kahvit aamulla, kun ei ollut suodatinkahvia, ja jopa siten tästä kahvista tuli hyvää. Pian kokeilemaan myös uudella espressopannulla.
Espresso
Jari
Tästä pavusta tullut oma suosikki. Helppo ja silti aina hyvä maku!
Aamukahvi
Esa
Tästä vähän hapokkaasta tuhdista ja tummasta espressosta teen aamuisin espressokoneella cafe con leche-tyylisen juoman. Espanja tästä itselleni tulee mieleen. Sopii myös espressona mutta paremmin maidon kanssa.
Espresso
Jari
Ostan tätä papuna ja siitä on tullut kyllä oma "house blend". Helppo onnistua lähes aina, toimii myllyssä hyvin ja kun vielä makukin on kohdallaan niin palaan kyllä vielä moneen kertaan tähän papuun
Täydellinen aamukahvi
Tuija
Tämä potkii aamu-unisen hyvin hereille mutteripannussa keitettynä. Muuta enää edes juo.
Crema Espresso 250 g
Hyvä peruskahvi. Ehkä tuo robusta hieman liikaa maistuu
Crema Espresso 250 g
tumma ja vähän tunkkainen
Vahvan makuinen hyvä espresso
Juho
Hyvä espressopapu, mutta maku ei kuitenkaan mikään tajunnanräjäyttävä. Nautinnollisen latten tällä kyllä tekee koska vaan.
Lahjaksi
Tykkään siitä niin paljon, että vein kaverillekin kokeeksi
Varma peli
Tilannut ennen ja tilaan toistekin. Hetkellä paras löytämäni kahi.
Crema Espresso 250 g
Ensi kertaa keitin espressoa näillä pavuilla, ja maistui todella hyvälle.
Mukavan vahvaa
Pidän tästä, vahvasta espressosta. Crema pysyy pitkään ja on paksu. Täyteläinen.
hyvä
Tähan mennessä parhaat pavut mitä olen kokeillut
hyvä kahvi
Hyvä peruskahvi
Espresso kahvi
Tykkäsin tämän kahvin paahtoasteesta ja tilaan varmaankin lisää.
Crema Espresso 1 kg
Aromikas ja pehmeähkö maku. Erinomainen !
5/5
Erittäin hyvä espresso nautinnollisiin kahvihetkiin!
Porvoon paahtoa
Ihan ok, mutta ei aivan niin hyvää kuin odotin. Rööperissä paahdettu Barista Blend on enemmän minun makuuni.
Huippuhyvä
Pehmeä, suklainen, paksu ja todella runsas crema (Rancilio Silvia / sinkkukahvalla / 7,3g / 93C / 25 s) Itse juon kaikki espressot sokerin kera. Tästä kahvista tulikin ns. peruskahvi tähän taloon.
Crema Espresso 1 kg
Mitä tästä sanoisi? Suuhun jää mukava jälkimaku. Ei ole kitkerä. Hyvä kahvi.
Crema Espresso 1 kg
Hyvää kahvia, ei voi muuta sanoa :) Tarpeeksi tumma ja pehmeä.
Crema Espresso 250 g
erinomaista kahvia tällaiselle kahvin juojalle , jolle tavalliset kahvit aiheuttavat vatsanväänteitä
Mahtava crema
Tosi hyvä ja paksu crema, tavallaan nimensä mukaisesti. Paahtopäivä oli n. 3vk sitten, eli ihan riittävän tuoretta. Suosittelen.
Erinomaista kahvia
Pavut ylittivät odotukset, lisäksi toimitus oli supernopea!
Crema Espresso 250 g
Tuli todella hyvä crema, kuten luvattiinkin. Tuoretta oli tämäkin paahtopäivämäärän perusteella.
Cretan oma espresso
Tämä on uusi miellyttävä ja ryhdikäs tuttavuus.
Creman oma espresso
Helppo ja maukas. Maku ei ärsytä ja pavut ei jauhettuna pölise myllyssä
Crema Espresso 250 g
Vastasi esittelyä
Ihan ok
Perus espresso, hieman liian tumma ja rasvaiset pavut.
Gott kaffe!
M
Jättegott kaffe till pressobryggare!
Trodde den skulle vara mer stark i smaken, men lika god ändå! Rekommenderar!
Smak ja, men dålig crema
Dan
Kan vara vår Jura X7 som felar, gillade Lucaffes espresso bättre. Kändes platt och creman var inte riktigt där.
God espresso
Åsa
Prisvärd och god espresso blir det av dessa bönor. Jag blandar i havremjölk och det gifter sig fint. Inte allra bästa espresson jag provat, men det kan bero på att jag inte träffat rätt vad det gäller malningsgrad.
Espresso
Mycket bra kaffe!!! Rekommenderar den!!!