Ethiopia Sidamo is like the dark, warm nights of Africa in your coffee cup.
The coffee from Ethiopia has always been a favorite among us at Crema. We roast the coffee from Sidamo slightly lighter. Thus the rich and soft flavor is complemented with a high citrus fruity juicyness. We recommend the coffee for French Press, coffee maker and other similar coffee making equipment.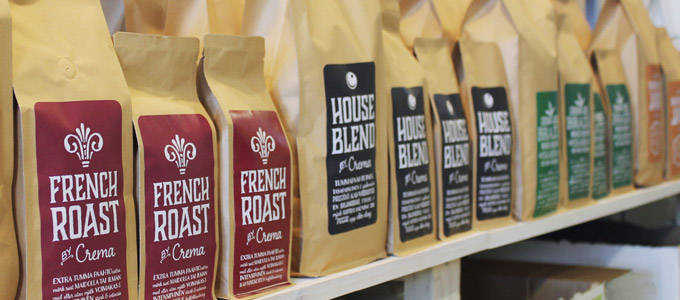 Crema's Own Coffees
Our own coffees are high-quality alternatives for those who value a good cup of coffee. For more than a decade we have listened to our customers' wishes and thoughts about how good coffee should taste.
Based on our experience with our customers, we have developed our own tasty coffee selection.
Crema's coffee is roasted by hand in Porvoo, always in small batches to ensure the best quality.
Taste profile
Round nutty sweetness, nice acidity of lemon/lime and some flowery aroma. A good morning coffee.
Body
Sweetness
Acidity
Bitterness
Brand Crema
Product number

2524
Filter coffee
Whole coffee beans or choose grinding
Processing method: Washed
Origin: Ethiopia
Similar coffees
---
Our customers also bought
Customer reviews
Fantastic coffee
V.A.
Fresh citrusy acidic flavor profile that I like, I got mine pre ground for filter coffee as I don't have a grinder yet and they were perfect.
Hard to get it right
Pd
My experience was that this coffee is not bad, but it's very hard to get a good taste out of it. The negative reviews usually say it's bland, and I was having this experience most of the times, but now I'm grinding it very fine (not espresso fine, but close to the lowest setting on a Hario grinder) and getting decent results. (setup: Hario immersion brewer)
Outstanding coffee
Christine
Extraordinarily pleased with Ethiopia Sidama. Bold flavor and jolt of caffeine. What's not to love!
Better than what you can imagine!
NC
If you are not so into the dark roasted bean, this is what you have been looking for!
Possibly my favourite beans!
Sam
Brilliant coffee at a great price
Crema Ethiopia Sidamo 250 g
Good quality and reasonably priced!
Soft and rich coffee flavour
Vadim
It was my first experience at cremashop and it exceeded all expectations! This Ethiopia Sidamo coffee has a very smooth texture, a soft and rich flavour with a gentle citric touch.
Ihanan sitruunainen
KetoK
Mielettömän hyvän makuinen kahvi!
Marjaisa
korde
Makeahko, marjaisa kahvi. Sopii erityisen hyvin jälkiruokakahviksi.
Crema Ethiopia Sidamo 250 g
Kahvi heille, jotka kaipaavat hieman vivahteikkaampaa, mutta tummempipaahtoista kahvia. Todella lempeä hapokkuus. Erinomainen cold brew -menetelmällä tehtynä.
Erinomaista, etten sanoisi
Zchina
Alkuperämaa-Huippukahvi. Sopi hyvin juhlahetkeen. Ei paremmasta ja pehmeämmästä väliä.
Hyvä peruskahvi
Didrik
Tämä on hyvä peruskahvi, missä hinta-laatusuhde on kohdilla. Ostan aina välillä kun teen muut tilaukset Cremalta, ja laatu on aina ollut samankaltainen. Toki, peruskahvina siinä ei ole maailman kiinostavimmat maut, mutta hyvä maku on riittävä ominaisuus.
ihan ok mutta aika perus
kahvimies
hieman tylsän puoleinen mutta ok
Crema Ethiopia Sidamo pavut
Fiona
Ostan silloin tällöin Sidamoa, myös muidenkin paahtimoiden. Pidän vaaleasta paahdosta, tällä kertaa kahvi tuntui kuitenkin hiukan valjulta, jokin syvyys mausta puuttui.
Crema Ethiopia Sidamo 250 g
Paula
Melko yhdentekevä, mutta hyvä peruskahvi.
Crema Ethiopia Sidamo 500 g
Takuuvarma!!
Hyvä peruskahvi
Anku
Tätä tilattiin jo toista kertaa.
Pehmeä maku
Päivi
Pehmeä hyvä maku
Ei hassumpi
DW
Ensimmäinen Creman kahvi mitä olen kokeillut. Kalita Wavessa käyttäessä maku on jees, ei mikään ääretön makuelämys mutta ilman muuta kannattaa kokeilla. Eikä hinnaltakaan ole paha. Mietin 3 ja 4 tähden välillä mutta annetaan neljä nyt, ehkä muuttuu kun tässä enemmän maistelen vielä.
Liian laihaa kahvia
Jupelo
Ethiopia Sidoma oli valitettavasti iso pettymys. Jura automaatilla käytämmä normaalisti kuppikokoa 170ml kahviin. Ethiopia Sidoma-papuja käytettäessä samalla annoskoolla kahvista tulee kuin teetä, eli aivan liian laihaa. Säätämällä kuppikoon 120 ml samalla jauhatustasolla kahvin voi juoda, mutta rahalla ei valitettavasti tule vastinetta, tai sitten sattui joku sekunda-erä. :(
Suosittelemme vaaleapaahtoista Sidamoa suodatinkahviksi esim. suodatinkeittimeen, pressopannuun tai valmistettavaksi käsin uuttamalla. Täysautomaattinen kahvilaite valmistaa kahvin espressomenetelmällä puristamalla kahvin pieneksi kiekoksi, ja pumppaamalla veden korkealla paineella kahviannoksen läpi. Tämä, kuten muut vaaleapaahtoiset afrikkalaiset kahvit, eivät maistu kovin hyvältä valmistettuna pitkänä tällaisella laitteella. Espressona näistä kahveista voi saada esiin jännittäviä sitruunamehumaisia makuja, jos sellaisesta tykkää..
Hedelmiä pannussa
JM
Erittäin hyvä ja hedelmäinen vaaleapaahto. Jälkimaussa selkeän sitruksiset vivahteet ja valmistaessa kirpeähkö tuoksu. Tästä tuli yksi suosikeista.
Kestosuosikki
Tätä etiopilaista kahvia olemme ostaneet silloin tällöin parin vuoden ajan. Maukas vaaleapaahtoinen kahvi, omaan makuuni parhaimmillaan käsin suodatettuna. Kahvi jonka pariin palaan säännöllisesti.
Crema Ethiopia Sidamo 250 g
Mystic_Cyclist
Vaaleaa paahtoa pitkäst aikaa. Hyvää vaihtelua pitkään kestäneelle tummapaahto kaudelle
Ethiopia Sidamo
Etiopialaiset kahvit ovat todella laadukkaita ja täyteläisiä, niin myös Ethiopia Sidamo kahvi. Sopii erinomaisesti juhlahetkiin.
Uusi suosikki
KM
Niin pehmeä ja joustava että maistuu pikku kankkusessakin.
Hedelmäinen
LP
Todella hedelmäinen maku ja tuoksu, toimii ainakin pour overina hyvin. Omaan makuun toimisi varmaan vielä paremmin hieman tummempana paahtona. Tarttuu todennäköisesti toistekin ostoskoriin.
Yllätys
Eräjorma
Alkuun jokseenkin mauton, jälkimaku yllätti hedelmäisyydellä. Ei kuitenkaan ihan omaan makuun.
Ethiopia Sidamo
Pake
Aivan järjettömän ihana suklaan tuoksu leijailee pussista vaivihkaa. Ja vielä erittäin hyvää kahvia
Crema Ethiopia Sidamo 250 g
VP
Mausta löytyy heldelmäisyys. Karvautta on myös mukana mutta kahvin muut maut riittävät sen pitämiseen aisoissa. Ei välttämättä sovi kahvittelijoille, jotka vierastavat happamuutta kahvissa, sillä se nousee esille maussa vaikkei sille olekaan herkkä.
Vaalea paahto paras paahto
Sepi
On hyvää kahvia.Ihan erilaiselta maistuu kuin perus juhlamokat.Olisi kiva jos Creman valikoimasta löytyisi enemmänkin vaalea paahtoisia kahveja.
Hyvää peruskahvia.
dielektrisyysvakio
Odotin kahvilta enemmän, kuitenkin melko hyvää. Aivan aavistuksen hedelmäisyyttä pystyn tässä maistamaan. Muuten maku melko samanlainen kuin vaaleapaahtoisessa kulta katriinassa. Toisaalta ehkä olen sivistymätön moukka. Kehoitan kuitenkin kokeilemaan.
Huippukahvi!
AS
Tästä tuli uusi lempikahvini.
Pliisu
Kahvikissa
Jotain jäi uupumaan, vetinen
Crema Ethiopia Sidamo 250 g
Upea maku! Paras kahvi pitkään aikaan
Maukasta ja muhevaa
Hyvä kahvi!
Maukas kahvi
Tonto
Testimielessä ostettu paketti osoittautuikin todella maukkaaksi kahviksi. Tulen ostamaan jatkossakin ehdottomasti. Valmistan Chemexillä sekä Hariolla joilla saan kuppiini hyvänmakuisen kahvin.
Mjuk och smakfull
Andrés T
Mjukt kaffe men ändå full av smak. Lite åt det fruktiga hållet.
Gott!
Crema Ethiopia Sidamo 250 g
Fint kaffe
Gott
Johan
Ganska milt men gott, hade förväntat mig lite mer blommig smak.
Bra
Åsa carmesund
Bra påsar gott kaffe!
Okej
Patrik
Sälj som ljusrostat. Mer åt mellan/mörk röstat kaffe hållet!
Gott kaffe
MN
Mycket trevligt kaffe. Bra syra och fruktighet. Inte konstlad eller komplex utan balanserad eller vad man ska säga. Frukostfavorit. Bryggmetod V60.
Kaffebönor
Matts Willman
super gott kaffe
Etiopien levererar
Jimmy
Inte riktigt så syrligt som andra Etiopiska bönor vilket inte gjorde något. Ett kaffe jag inte tröttnar på.
Helt okej
Jacob
Helt okej kaffe. Bönorna levde inte helt upp till förväntningarna i kvalitet. Men det car ändå gott kaffe.
Påsen som kaffet kom i hade var inte återslutningsbar och det var ett stort minus för mig!
Underbart
Hilfinh
Mjukt som silke
Inte min favorit på grund av syra-fruktighet-beska balansen
SL
Många älskar Ethiopia men jag har själ svårt med hög syra och fruktighet. Vill ha mer fyllighet och beska så läs min recension med det i åtanke för detta är säkert ett supergott kaffe för dom som gilla hög syra och fruktighet. Jag kommer att ge bort mina paket av detta till vänner som kan uppskatta det mera
Grovkornigt
Niclas
Kaffet var för grovkornigt då jag fick det och inte speciellt bra för vanlig bryggmaskin. (Trots att det beställdes). Var mer anpassat som kok-kaffe.
Därav försvann den goda smaken.
Absolut det godaste kaffet!
Malin
Hur gott som helst! Helt underbar smak.
Gott kaffe
Rebecca
Att rekommendera