How to make Vietnamese coffee
Vietnamese coffee is an intensely strong and sweet coffee often containing Robusta coffee that has a higher caffeine content than the Arabica beans. What makes the Vietnamese coffee unique is that the coffee is slowly dripped through a metal "phin" filter that gives this dark roasted coffee a thicker and stronger tasting brew. The Vietnamese love sweet coffee though so it is traditionally dripped over some thick and caramellike condensed milk, and can be turned into an ice coffee by adding ice cubes and additional milk to the brew.
Hot coffee is preferred in the morning in Vietnam, while iced coffee is enjoyed during the heat later in the day. Either way enjoyed, both have the full, sweet, and chocolatey flavors associated with Vietnamese coffee.
You'll need:
Condensed milk
A cup or heat resistant glass
Boiling water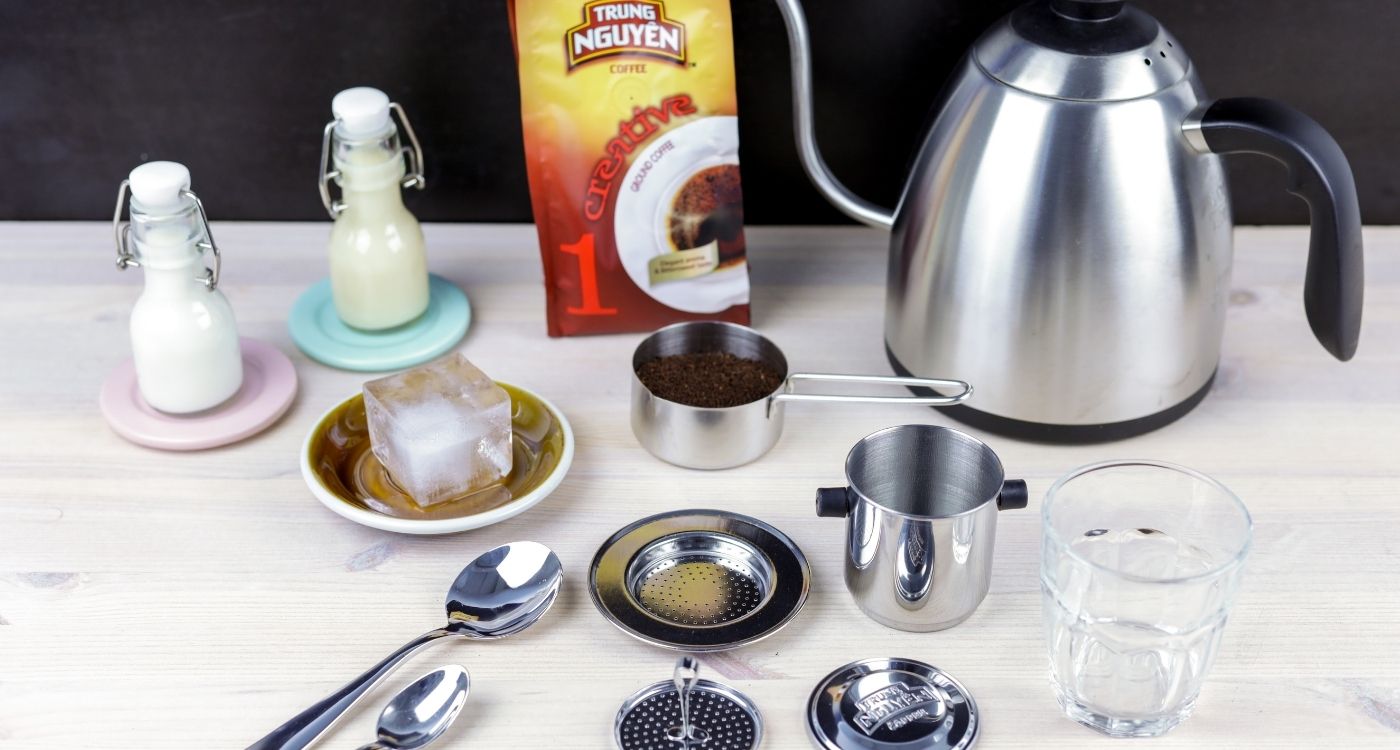 How to make Vietnamese coffee using a phin-filter:
Start by boiling some water. You can preheat the cup and phin-filter by pouring some hot water through the filter and in the cup.
Remove the metal filter disk and pour in 1 heaping tablespoon of ground Vietnamese coffee or approximately 4 teaspoons.
Place the filter disk on top of the coffee to level it out.

For a sweet coffee with condensed milk, add 1-3 teaspoons of thick condensed milk to the bottom of the cup/glass.
Place the phin (filled with coffee) on top of a cup or a heat resistant glass.
Pour a little bit of hot water over the filter, approximately 20 grams, and let the coffee "bloom" for 30 seconds, meaning letting the ground coffee get wet and releasing oxygen.
Then pour another 100-130 grams of water in the filter, or simply just fill up the body of the phin with hot water, and cover it with the metal lid.

Let the brew drip slowly for around 3-5 minutes. There are some metrics that ideally should be reached when brewing Vietnamese coffee, and you should see the coffee start dripping through the filter within the first 2 minutes, and all of the water should have passed the filter after 5 minutes.

For iced coffee, let the brew cool off a bit and then add ice cubes to the cup/glass and stir, alternatively pour the brew into a taller glass filled with ice and then add condensed or regular milk, or both.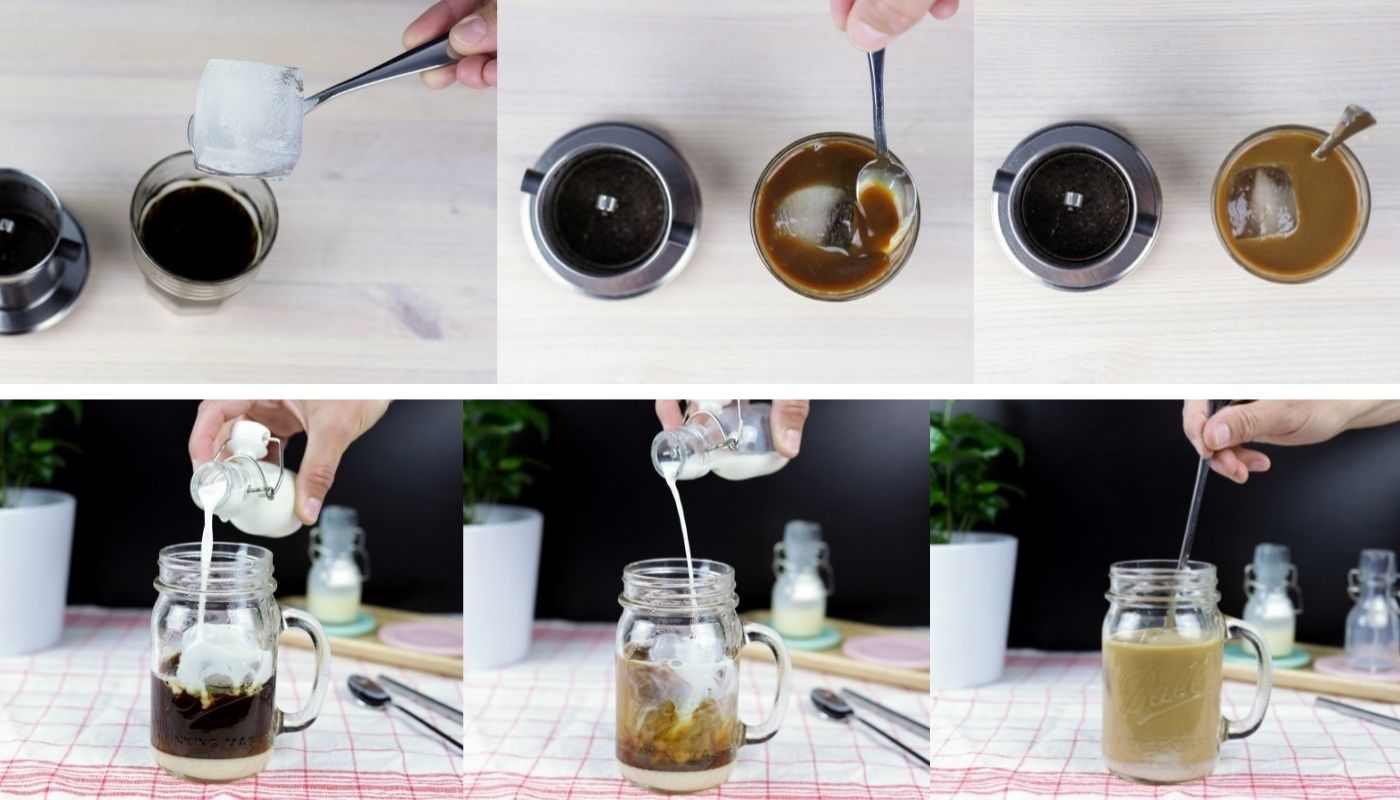 Vietnamese coffee
Products for brewing Vietnamese coffee
You might also need these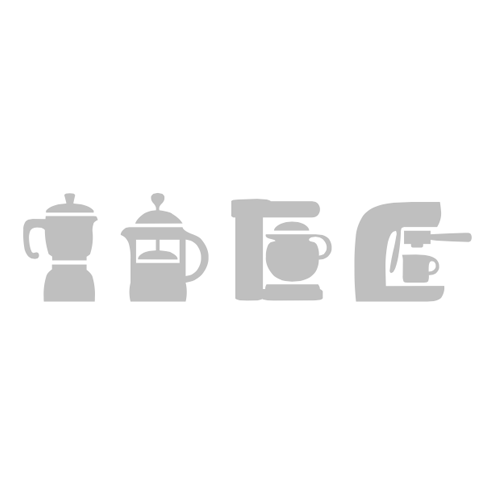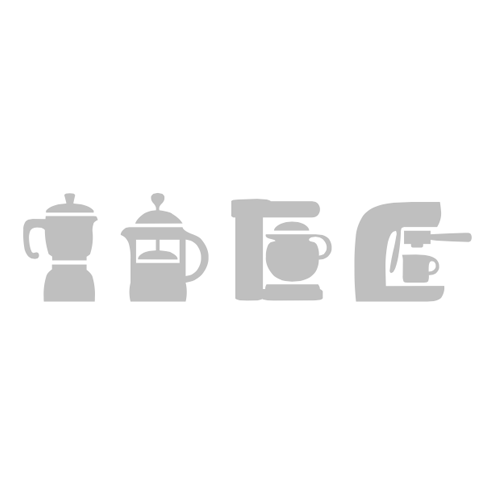 Brew Guides