Kaffa Roastery Go'morron Coffee Beans
Kaffa Roastery Go'morron 250 g Coffee Beans
Price
Stock status:
In stock
Dispatched within:
1-2 workdays
Variations
Kaffa Roastery Go'morron is a balanced light-roasted morning coffee blend that wakes you up gently with hints of sweet honey and jasmine. It has some nice citrus fruitiness while keeping the acidity low and balanced.
Three famous coffee origin countries in beautiful harmony. Ethiopia brings flavors and a touch of acidity, Indonesia diverse earthiness. The magnificence is complemented by the broad sweetness of Colombia.
40 % Indonesia, Aceh (Arabica)
40 % Rwanda, Nyamulinda (Arabica)
20 % Colombia, Acevedo (Arabica)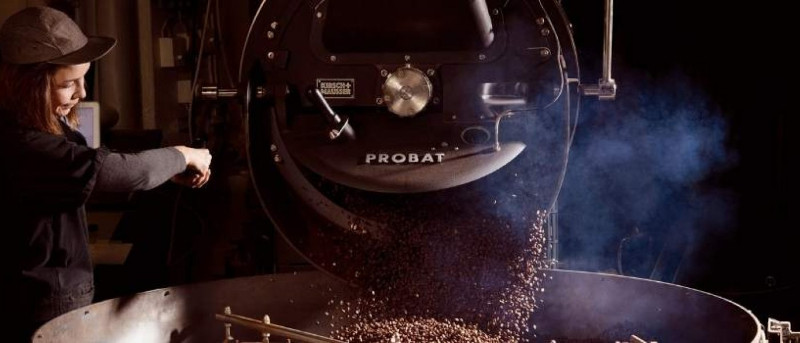 Kaffa Roastery
Kaffa Roastery is located in beautiful Punavuori in the heart of Helsinki, Finland. They believe that if you drink a lot of coffee, you should also drink good coffee.
They make "Kaffa Handshake" direct trade agreements with all of the farmers they work with, as they believe good coffee also does good for the people and for the planet.
Taste profile
Body
Sweetness
Acidity
Bitterness
Filter/drip coffee
Whole coffee beans
Weight 250 g
Similar coffees
---
Our customers also bought
Customer reviews
Good, simple but good
M.K.
I did espresso. Good, there is taste nianses and so on, but its no top of hill, have to go further to find another taste nianses.
Great blend.
Gerald
This coffee is great. An very nice crisp light roast.
Best ever coffee at this price point
LD
This is by far my favorite coffee at this price point. It is fresh, floral, with the desirable amount of acidity and no sourness at all. Thank you
Erinomainen arkikahvi
M.K.
Keskivertoa parempi arkikahvi!
Täydellinen aamukahvi
Sally
Tämä matalahapponen ja pehmeä sekä hedelmäinen luomus on jokaiseen aamuun täydellinen aloitus. Tästä eteenpäin meillä juodaan tätä.
Lahjaksi ostettu papukahvi
Joulupukin apuri
Tuote meni hyvälle ystävälle joululahjaksi, joten en päässyt itse tuotteella herkuttelemaan. Tuoksu oli kyllä ihana. Kaffa Roasteryn tuotteilla on hauskat nimet ja myös tyylikkäät pakkaukset.
Go'morron kahvi
LH
Loistava pirteähkö aamukahvi ruisleivän kaveriksi
Kaffa Roastery Go'morron 250 g Coffee Beans
Paula
Perustasoa parempi kahvi. Tuli santsattua.
kahvi
angel
maku on erityinen. ei minun.
Hyvä maku
mapel
Pehmeän makuinen peruskahvi.
Hyvä aamukahvi
Sopiva kahvi aamuun
Kaffa Roastery Go'morron 1 kg Coffee Beans
Pehmeä, hyvää maidon kanssa aamuisin
Kaffa Roastery Go'morron 1 kg Coffee Beans
Ihanan pehmeän makuinen kahvi. Suosikkini.
Palaute
Vahva maku, makuhemojen hemmotteluun.
Täyteläinen peruskahvi
Tilattu jauhettuna.
Tuhti aamunavaus !
Erinomainen kahvi aamiaispöytään...
Peruskahvi
Hyvä peruskahvi. En juo itse kahvia aamulla, joten päiväkahvina maistettu. Helppo, kevyt, ja jotain, mitä tarjoaisin ihmisille, jotka tyypillisesti ostavat taviskaupan tarjoussumppia. Hinta melko kova, mutta toisaalta vastapaahdetut pavut saavat vähän maksaakin. Ostan toistekin.
Älytsin hyvää!
Meni kirkkaasti mun kahvisuosikiksi ekalla maistolla. Itse en ole kovin tumman paahdon ystävä, ja tämä oli omaan makuuni oikein nappivalinta. Pehmeä ja mielyttävä maku vailla kitkeryyttä. Täysi kymppi!
Kaffa Roastery Go'morron 250 g Coffee Beans
Erinomainen kahvi aamulla - ei ole raskas, joten voi nauttia useammankin kupin.
Kunnon kahvia!
Todella hyvä kahvi, maistuu piristävältä(sitruksen makua) ja hyvää tuli maidolla sekä ilman pressopannulla tehtynä.
Kaffa Roastery Go'morron 250 g Coffee Beans
Go'morron on hyvä kahvi, jonka maussa ei ole yhtään pistävyyttä. Vahva ja pehmeä. Vastapaahdetun kahvin tuoksu on miellyttävä.
Kaffa Go´morron kahvi
ihan ok- ei kuitenkaan parasta kahvinautintoa
Kaffa Roastery Go'morron 250 g Coffee Beans
Liian vaaleapaahtoinen minun makuuni. Ei oikein maistunut miltään.
Mycket trevlig och lättdrucken
Mattias
Jag gillar Johan & Nyström Fika och Kaffa Roastery Lempeä Voima, och denna är en perfekt variation till dom. Lite mera lättdrucken, men väldigt god och tydlig smak ändå.